Cosmo Valve Seat Inserts
Behind this name I are the masterminds of highly qualified techno crafts with industrial experience of more than 30 years, in the manufacturing of the same product. Also at the same time, we are manufactures of widest range of Valve Seat Inserts for almost every type of Internal Combustion Engines of Cars, Trucks, Tractors, Two Wheelers, Industrial Engines, Marine Engines etc.
Maximum Valve and Seat performance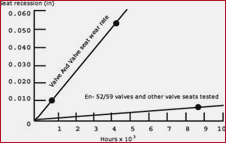 COSMO Premium Quality Valve Seat Inserts are made of special composition alloy steel to withstand extremely high temperature in combustion camber of four stroke engines, using natural gas, L.P. gas, lead free fuels etc. Due to the high alloy contents and excellent heat resistance properties, COSMO - Valve Seats Inserts are able to dispose the heat surrounding the engine valves. As during the running of all four stroke engines, the engine valve contacts the valve seat inserts for a very short moment, it is only when the head of the engine valve has a chance to transfer the heat to the valve seat, which ultimately transfer it to the water jacket of the cylinder head. This is why COSMO - Valve Seats Inserts cools faster, assures longer engine valve & valve guide life, which finally extends the engine life. Also the hardness & the granule structure of the COSMO - Valve Seats Inserts is such that it can be cut & machined easily with existing tooling and will not clog the cutting stones and cutters.
Conclusion: It is found that the use of COSMO - Valve Seat Inserts extends the life of Engine Valves and ultimately of Engine. The wear rate is almost negligible due to the continuous film, which forms on the seating surface, acting as a protective mechanism for Valve & Seat Inserts.
We have complete in-house capabilities for development, metallurgy, casting, tooling and testing. The casting, which is the most important and typical factor in the manufacturing of the Valve Seat Inserts, is done on latest high frequency induction melting furnace. These are individually and centrifugally casted, as the case may be, Under the strict supervision of qualified metallurgists. The factory is well equipped with the latest & up-to-date machinery for Designing, Manufacturing and Quality Control. QUALITY is ensured at every step of manufacturing under the strict supervision of highly qualified engineers. Latest automatic Plant and Machinery is used to cut down the cost of production and to ensure the timely deliveries, without making any compromise to quality
COSMO - Valve Seat Inserts are available in more than 5500 different sizes and all valve seat inserts are available in standard as well as in over sizes If you have any specific requirement of any type of Valve Seat Inserts or you have got a design problem please call us and let our experience work for you